Change In People Is Possible
Most people's perceptions of prison come from what they see in the media or watch on television or in the movies. This presents a real problem because frequently they're only getting a one-sided portrayal — prison as a harsh, unforgiving and hopeless place. As a result, too many people have too few reasons to believe that men and women who are incarcerated can change their lives, break the cycle of crime and contribute to society.
We know from government studies that 95% of inmates in state prisons will be released back into the community. We also know that more than two-thirds of inmates will be arrested within three years of their release, and over that same time period, more than half of all inmates commit a new crime or parole violation that returns them to prison. The fact is high recidivism rates are a national crisis, and they are totally unacceptable. Inmates who recidivate inflict pain on themselves, their families and the victims of their crimes. And their re-incarceration drives up costs for governments and taxpayers.
As the fifth largest prison system in the nation, we believe we can and must play a role at Corrections Corporation of America (CoreCivic). That's why, in a recent speech, I made a series of commitments on behalf of our company with the goal of creating the best inmate re-entry programming value in corrections. Specifically, we pledge to:
Graduate more than 12,000 inmates with GEDs by the end of 2019;
Strengthen our addiction treatment programs by providing treatment options at no less than a 60% completion rate by the end of 2019;
Help 4,000 inmates complete our victim impact programs over the next three years while quadrupling access to these programs;
Award more than 25,000 industry-recognized vocational certificates by the end of 2019; and
Enroll between 1,900 and 2,300 inmates in faith-based residential programs and achieve a 95% completion rate for those who participate by the end of 2019.
We believe these commitments aren't just the right thing to do. They align fully with our business model by helping us deliver for our government partners, our shareholders and the communities we live and work in.
At CoreCivic, we're going to work hard to make meaningful and measurable progress with our re-entry programs over the next several years. We believe we will make a difference. But we can't do it alone. All of us who care deeply about this issue need as many people as possible to see the other side of corrections. We need to raise awareness that caring, forgiveness and hope exist in prison. And above all, we need to show that high recidivism rates can be overcome. We hope this website helps do this.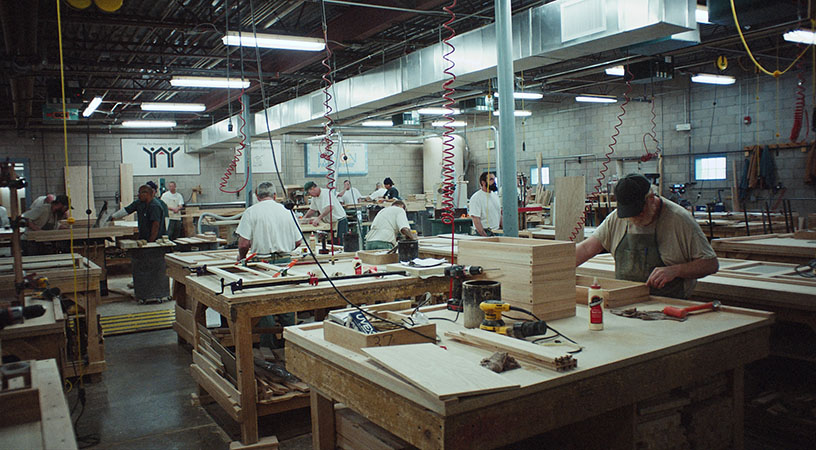 In these short films, we take you into parts of prison that you rarely see or hear about — a chapel, classroom, woodworking shop, training center, computer lab and even a greenhouse with the tongue-in-cheek name, "Green Belly Achers." You'll meet wardens, teachers, instructors, facilitators and volunteers. They represent the thousands of people who work for and with our company. Believe me, they are some of the most incredible and passionate people you will ever meet. You'll also hear from inmates who are enrolled in re-entry programs and working hard to give themselves a better chance at success when they return to their families and communities. We're proud of them and pleased they were willing to share their important perspectives. We also greatly appreciate our government partners for not only allowing us to tell these stories, but for their essential support of many of these programs.
Above all, the message that these short films tell is that change in people is possible. We see it every day in our facilities. And we want to see it even more in our facilities and in every system – public and private – across our country. We hope you'll take that away from the time you spend here. But above all, we hope you'll take inspiration that together we can make a difference and tackle this national crisis.
Damon Hininger
President and CEO, CoreCivic